This page brings together resources for delivery and uptake of Oracle Digital Assistant. This material is a complete end-to-end leanring library including product features and best practices for developing chatbot skills and digital assistants.
This material can be used as self-paced learning or for delivery to customers, partners and your own development teams.
Complete End-To-End Training

The following section lists the complete end-to-end training.
NEW VERSION!: The complete training material has been been updated and extended to cover new features in Oracle Digital Asisstant 19.4.1 and 19.10
Overview
This section givens a complete overview of the features of the platform and serves as a primer for those who are new to ODA and are looking for a broad understanding of what it does.
It then includes presentations on understanding the challenges of conversational project and how to design conversations.
Developing Skills
This material covers the core skills of building skills including the basics of domain knowledge, how best to train your model, QnA, expression in dialog flows and visual components in the conversation channel.
Backend Integration
Integrating with backend services as a key feature of a digital assistant and this is achieved through custom components. Furthermore, custom components can be used to programmatically render responses back to the user via the channel.
Design Practices
This section introduces best practice designs for error handling,
Digital Assistant
The digital assistant provide the container in which skills can be assembled. It also takes responsibility for routing user requests to the correct skills.
Other Features of ODA
Oracle Digital Assistant provides a range of feature to augment the functionality of skills including integration with other technologies.
Channels Support
Users interact with skills and digital assistants through channels such as web pages, Facebook Messenger or other channels.
Language Support
You can build skills that can communicate with users in the native language of the user.
Security
Security for your digital assistant includes not only understanding how your skill authenticates and authorises users, but also information must be regarded as secure.
Insights and Analytics
Getting an insight into how your digital assistant and skills are performaning is a key factor for both developers and the business.
Architecture
Learning about the building blocks in Oracle Digital assistant and how they relate to known pattern and principles
Fusion Applications
Understanding how you can integrate Oracle Software as a Service (SaaS) solutions with Oracle Digital Assistant
Oracle Digital Assistant Documentation
There is so much more to say about Oracle Digital Assistant. You find the complete product documentation following the links below.
TechExchange Blog
The Oracle TechExchange blog complements the Oracle Digital Assistant product documentation with in-depth hands-on experience and code samples that cover common developer tasks. The blog is aimed at bot designers and developers alike.
Video Tutorials
Oracle Groundbreakers 2 Minutes Tech Tips
If a picture is worth a thousand words, what could a video be worth? From experience it seems to be better to show a short demo and an example instead of explaining things a hundred times or more. The Oracle Groudbreakers Blog is a VLog that collects technical tips from various product lines and technologies. Of course, we at Oracle Digital Assistant are happy to help. Click on the link below for an overview of our contribution.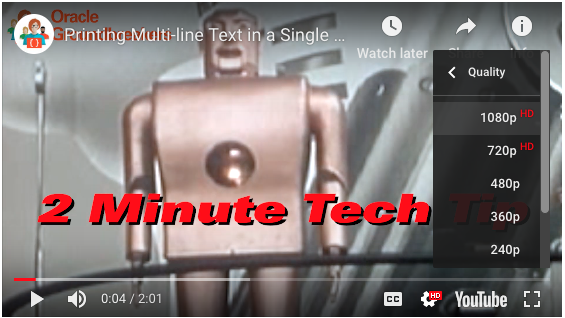 Oracle Digital Assistant on Oracle Groundbreakers
Conference Sessions
For many, live sessions are more appealing than recoded training videos. In this section, we list conference sessions about Oracle Digital Assistant, we record during Oracle and user group events.
Making First Contact: Building Chatbots with Oracle Digital Assistant Technical Primer
In this Oracle Code event session, recorded in April 2019 in Berlin, Grant Ronald of Product Management gives you an introduction to Oracle Digital Assistant.
Oracle Learning Library: Developing Chatbots
This course introduces you to the world of intelligent chatbots and how you can build them quickly and easily with Oracle Mobile Cloud. You will learn how to develop a bot that understands natural human language using NLP (Natural Language Processing), enable your bot to use its intelligence as it interacts with users, integrate your bot with back end systems so that it can deliver enterprise data to users and execute tasks and introduce your bot to a potentially vast audience quickly and easily by integrating it with the Facebook Messenger platform.
Though this course focuses on a previous Oracle product, principles and fundamentals still applies to Oracle Digital Assistant.